Travel
20 Best Places to Visit in Spain for First Timers
Welcome, fellow travelers! We're about to embark on an unforgettable journey through the heart of Spain, one of Europe's most vibrant and colorful destinations. If you're planning your first visit to this sun-drenched country, you're in for a real treat! In this blog post you will discover the best places to visit in Spain for first timers – a journey of culture, history, and beauty awaits!
First off, there's Madrid, the bustling capital, radiating with life and energy. Its rich historical sites like the Royal Palace and the Prado Museum are sure to enchant you. In contrast, the city's modern cafes, restaurants, and shopping streets offer a contemporary twist to your Spanish adventure.
Next, let's hop onto Barcelona. This Catalan gem is a real crowd-pleaser. The whimsical architecture of Antoni Gaudi, embodied in the iconic Sagrada Familia and Park Güell, is nothing short of breathtaking. Add to that the lively La Rambla and the sun-kissed Barceloneta beach, and you've got a city that truly has it all.
But Spain isn't just about its metropolises. Venture south, and the Andalusian region awaits you with its unique charm. Be captivated by Seville's flamenco shows, marvel at the stunning Alhambra palace in Granada, or lose yourself in the quaint white villages of the Sierra Nevada mountains.
Lastly, let's not forget the heavenly islands of Spain. Be it the party vibes of Ibiza or the serene beaches of the Canary Islands, Spain's islands promise a perfect seaside getaway.
As you can see, Spain is more than just a destination. It's a palette of experiences, each place offering its unique flavor. So pack your bags and join us as we explore these enchanting places. Trust us, this is a journey you'll remember for a lifetime!
Top 20 Best Places to Visit in Spain for First Timers
From the sun-kissed beaches of the Costa del Sol to the rugged beauty of the Sierra Nevada mountains, Spain's diverse landscapes are a sight to behold. Whether you're a history buff, a nature lover, or a foodie, Spain has something special in store for you. Below is the list of best places to visit in Spain for first timers. So, buckle up as we embark on this enchanting journey together!
The Prado Museum, Madrid
Get ready to step into the world of fine arts at Madrid's Prado Museum. Housing one of the finest collections of European art, the museum is home to over 8,000 paintings. Here, you'll marvel at masterpieces from artists like Velázquez, El Greco, and Goya. And don't forget to check out 'Las Meninas,' one of Velázquez's most famous works. As you wander through the grand halls, you'll be transported back to different eras, each with its unique story to tell.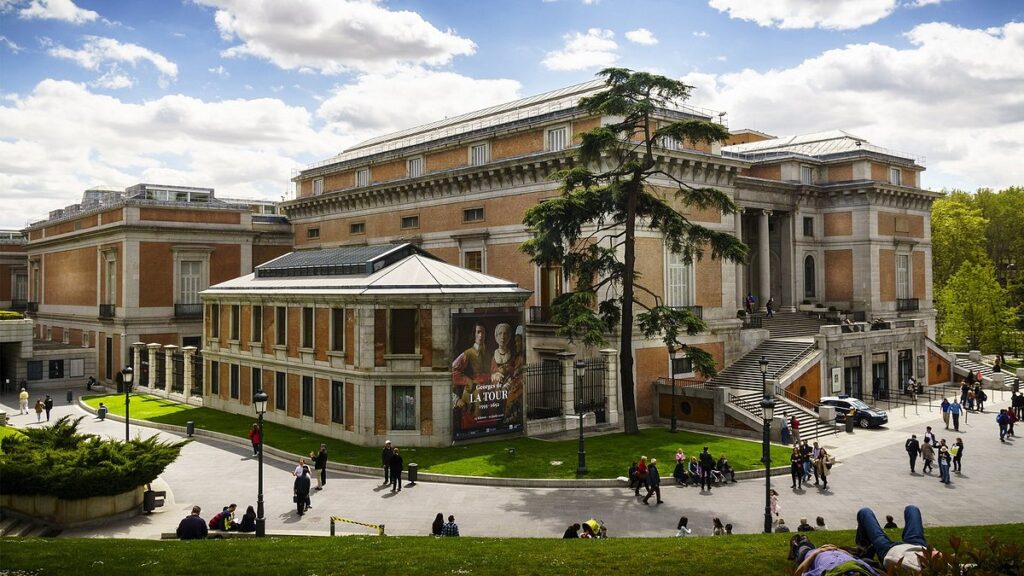 The Royal Palace, Madrid
Once the official residence of the Spanish Royal family, the palace now serves as a museum. With over 3,000 rooms showcasing opulent designs and priceless artifacts, you'll be enchanted. Highlights include the throne room, the royal armory, and the royal pharmacy. The palace's beautifully manicured gardens add to its charm, making it a one of the best places to visit in Spain for first timers.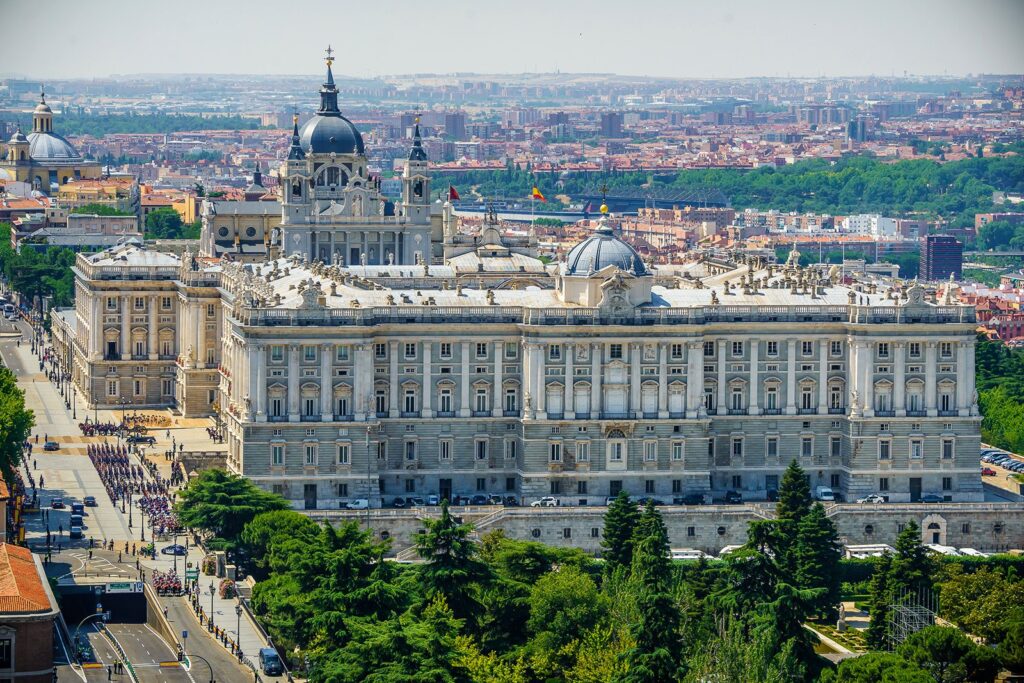 Sagrada Familia, Barcelona
Despite being incomplete, this architectural marvel is a UNESCO World Heritage Site. Gaudi's vision of nature-inspired design is evident in every detail. Marvel at the intricate facades and stunning stained glass windows. The interior columns, resembling trees, create a unique 'stone forest'. The ongoing construction fuels the intrigue, making every visit unique.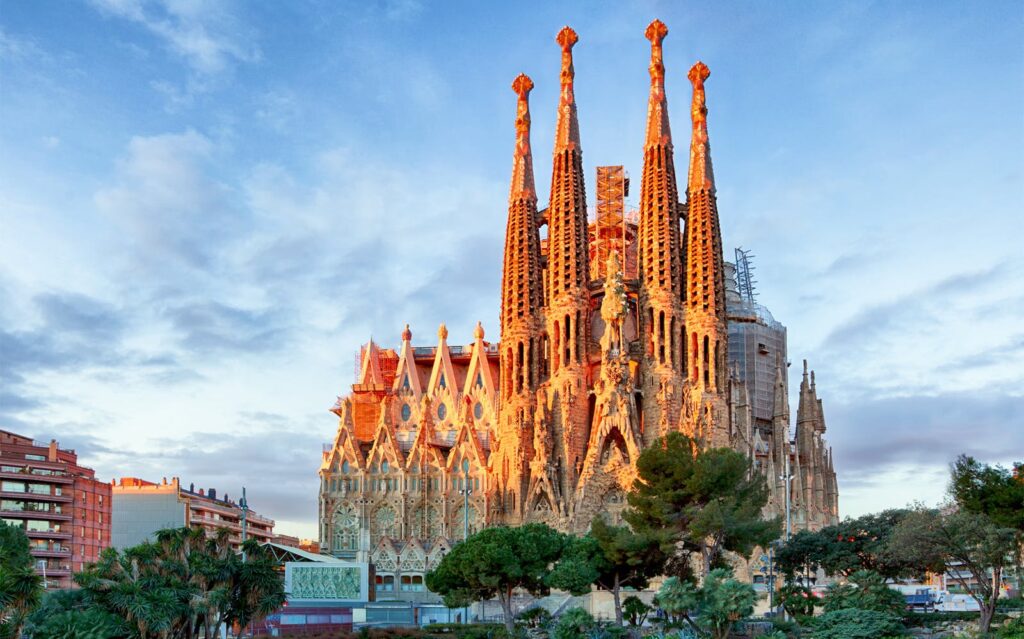 Park Güell, Barcelona
Another masterpiece by Antoni Gaudi, Park Güell, serves as a public park system composed of gardens and architectural elements. Gaudi's mosaic work shines here, especially in the iconic lizard statue at the entrance. Stroll around the beautiful garden and enjoy panoramic views of Barcelona from the park's high point. Gaudi's house, now a museum, is another attraction within the park. Park Güell is a testament to Gaudi's creative genius.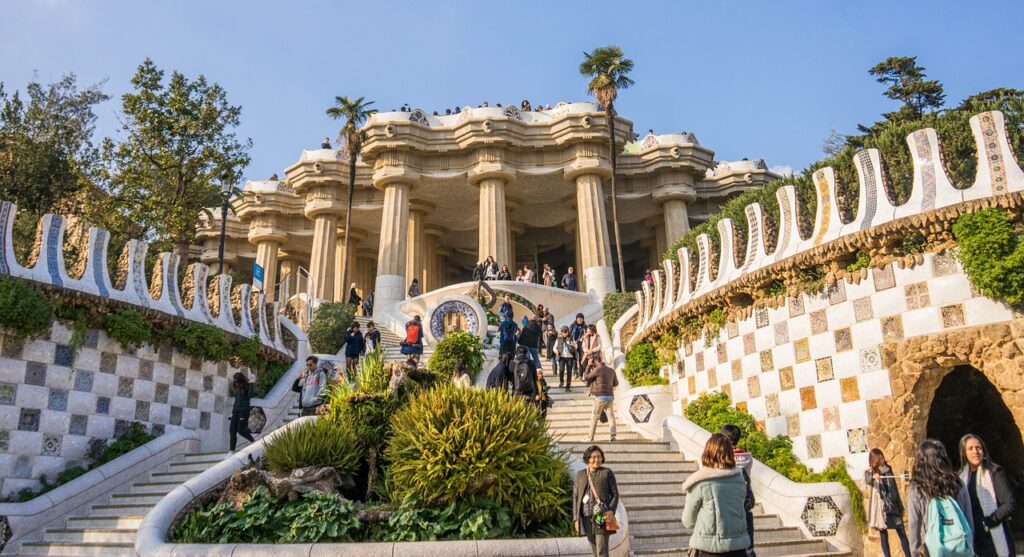 La Rambla, Barcelona
This bustling boulevard, lined with trees, stretches from Plaça de Catalunya to the waterfront. You'll find a lively atmosphere brimming with street performers, outdoor markets, and cafes. Don't miss La Boqueria, a bustling market selling fresh produce and local delicacies. Whether you're people-watching at a sidewalk café or exploring the nearby Gothic Quarter, La Rambla pulsates with the spirit of Barcelona.
The Alhambra, Granada
The site is a stunning blend of Moorish and Christian architecture, a testament to Spain's rich history. As you wander through its elegant courtyards and lush gardens, you'll come across ornate arches, intricate tilework, and flowing fountains. The star attraction is the Palacios Nazaríes, known for its beautifully carved stucco walls. Every corner of the Alhambra tells a story, waiting to be discovered and is one of the best places to visit in Spain for first timers.
Seville Cathedral, Seville
As the world's largest Gothic cathedral, it stands as a symbol of Seville's grandeur. Inside, you'll find a labyrinth of chapels, each adorned with religious artworks. Don't miss the Giralda, a bell tower offering panoramic views of the city. And make sure to pay your respects at the tomb of Christopher Columbus, another of the cathedral's key highlights.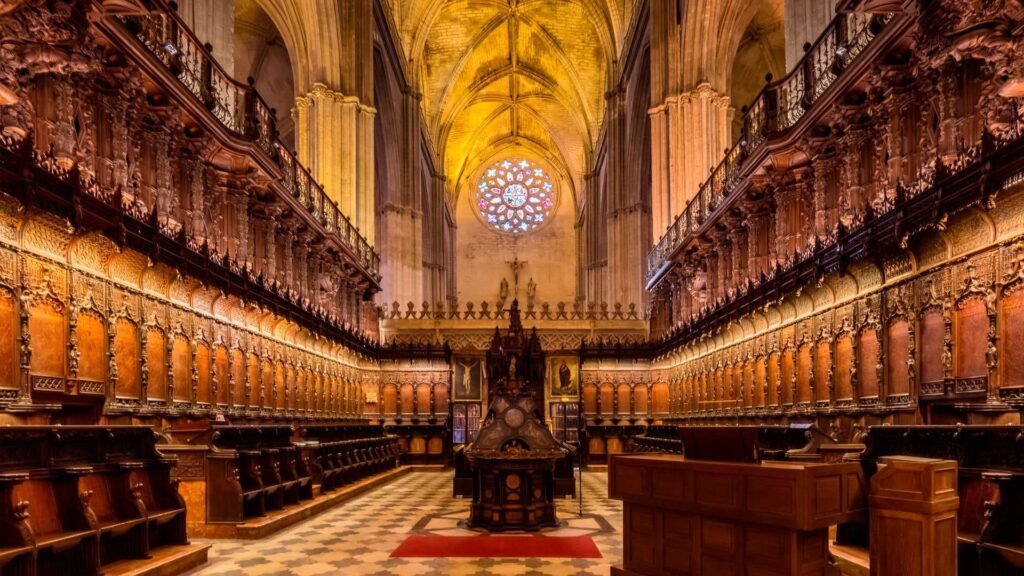 The Alcazar of Seville
Just a stone's throw away from the Seville Cathedral, the Alcazar of Seville is a royal palace renowned for its stunning Mudejar architecture. Walk through the ornate rooms, each more mesmerizing than the last. Marvel at the Patio de las Doncellas, a courtyard known for its intricate plasterwork and tiled panels. The palace's gardens, with their exotic plants and bubbling fountains, offer a tranquil retreat from the bustling city.
City of Arts and Sciences, Valencia
This modern complex is a playground for the mind, featuring a planetarium, an opera house, and a science museum. Its striking architecture, marked by sleek lines and shimmering pools of water, is a sight to behold. Whether you're marveling at the marine life in the Oceanografic or exploring the interactive exhibits at the Príncipe Felipe Science Museum, this city within a city has something for everyone.
Guggenheim Museum, Bilbao
Designed by Frank Gehry, the museum's distinctive metallic curves are a masterpiece in their own right. Inside, you'll find contemporary artworks from around the world, spread across 19 galleries. Highlights include Richard Serra's monumental sculpture, "The Matter of Time". A visit to the Guggenheim is not just about viewing art – it's about experiencing it.
The Great Mosque (Mezquita), Cordoba
This grand Islamic mosque, turned Catholic cathedral, is a stunning blend of Moorish and Christian architecture. Its hypnotic arches, sprawling prayer hall, and ornate mihrab are a sight to behold. Walking through the cool, dimly-lit interior, you'll be enveloped by a sense of tranquility and reverence. This harmonious coexistence of styles truly embodies the spirit of Andalusia.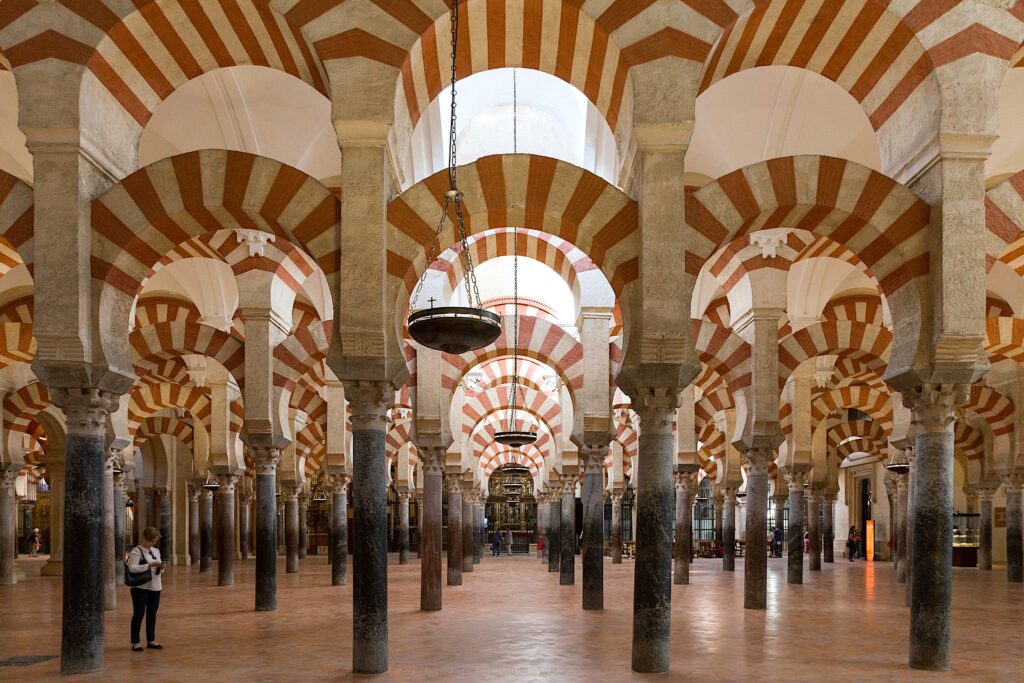 Palacio Real de Madrid
Although not the current residence of Spain's royal family, its opulence is still on full display. Inside, marvel at its 3,000 rooms, filled with precious art, antique furniture, and royal armory. Highlights include the stunning Throne Room and the opulent Royal Chapel. Don't miss the Changing of the Guard ceremony, a spectacle that adds to the charm of this grand palace.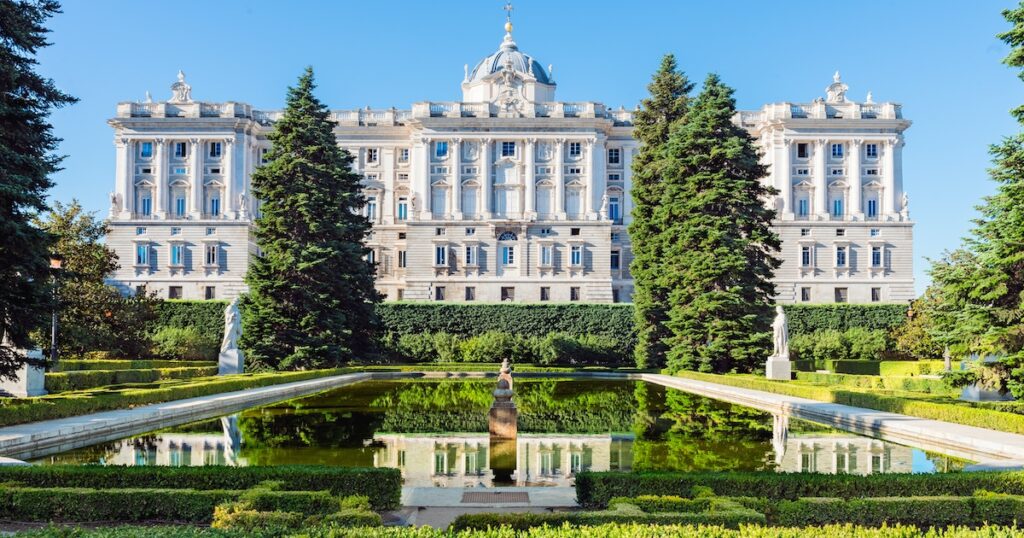 Costa del Sol, Malaga
Welcome to Costa del Sol, or 'Coast of the Sun', Malaga's sun-kissed stretch of golden beaches. Along its vibrant seaside promenades, you'll find a blend of luxury resorts, charming restaurants, and lively bars. The sandy beaches are perfect for sunbathing, while the clear blue waters offer opportunities for swimming and water sports. With over 300 days of sunshine a year, it's a veritable paradise for beach lovers and is one of the best places to visit in Spain for first timers.
The Caves of Drach, Mallorca
These four vast underground caves are a world of stalactites and stalagmites, creating an otherworldly spectacle. The highlight is a boat ride across Lake Martel, one of the world's largest underground lakes, accompanied by a classical music concert. This enchanting experience feels like a journey to the center of the earth.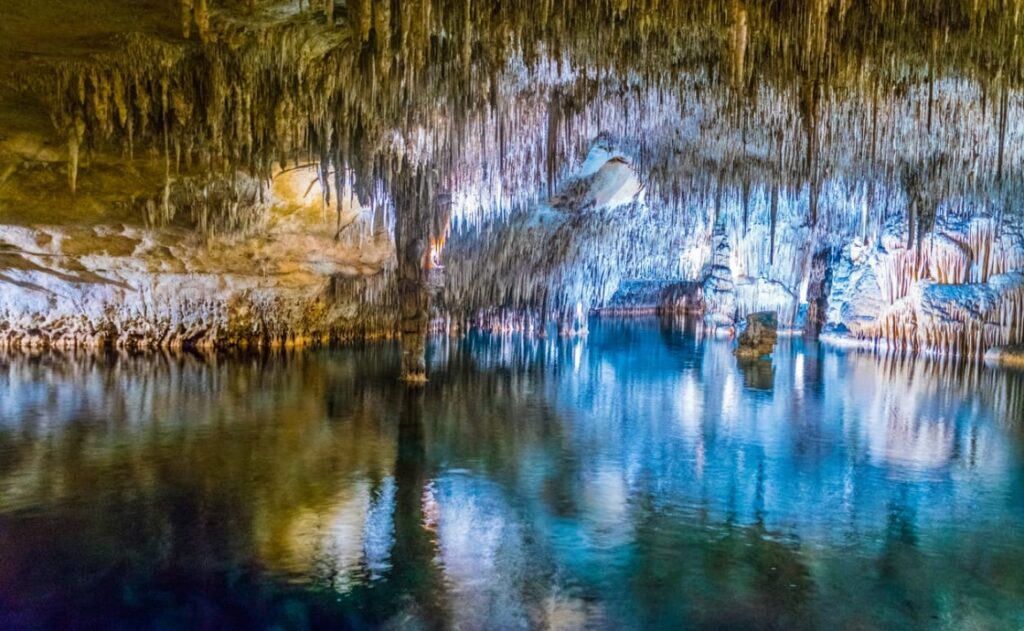 Plaza Mayor, Salamanca
This grand baroque plaza, with its uniform sandstone buildings and elegant arcades, buzzes with life. It's a place where locals meet for a coffee, tourists rest their weary feet, and students gather to chat. As the sun sets, the plaza takes on a golden hue, a perfect backdrop for evening strolls. Be it day or night, the Plaza Mayor is always full of energy and charm.
Teide National Park, Canary Islands
This grand baroque plaza, with its uniform sandstone buildings and elegant arcades, buzzes with life. It's a place where locals meet for a coffee, tourists rest their weary feet, and students gather to chat. As the sun sets, the plaza takes on a golden hue, a perfect backdrop for evening strolls. Be it day or night, the Plaza Mayor is always full of energy and charm.
Ibiza
Indeed, Ibiza is known for its electrifying nightclubs and beach parties. But this island offers more than just a vibrant nightlife. Its idyllic sandy beaches, clear turquoise waters, and quaint old towns paint a picture of serene beauty. Add in the stunning sunsets at Café del Mar, and you have an island that captivates by day and excites by night.
San Sebastian
San Sebastian, a coastal city in Spain's Basque country, is a gem waiting to be discovered. Its main draw is the picturesque La Concha beach, perfect for a sunny afternoon. Foodies will relish exploring its pintxo bars, where delicious bite-sized snacks are a local tradition. And don't miss the view from Mount Igueldo – the city's skyline against the Bay of Biscay is breathtaking.
The Aqueduct, Segovia
Over 2000 years old, it's remarkably well-preserved. This grand structure, built without mortar, stretches impressively across the city's historic center. Stand beneath its towering arches, and you can't help but be awed by the skill of the ancient builders. It's a sight that brings history to life.
Ronda
Its star attraction is the Puente Nuevo, a stone bridge spanning a deep gorge with stunning views of the surrounding countryside. Wander the cobbled streets of the old town, visit the historic bullring, or explore the beautiful gardens of the Casa del Rey Moro. Ronda is a destination that perfectly blends natural beauty with cultural richness.
Spain Uncovered: Your Ultimate Guide to the Country's Top Spots!
In conclusion, Spain offers a diverse range of experiences that caters to every traveler's preference. From the sun-drenched beaches of Costa del Sol to the majestic peaks of Teide National Park, the architectural wonders in Madrid and Barcelona to the historical richness of Segovia and Ronda, Spain brims with adventure at every corner. The country's enchanting culture, rich history, and mouth-watering cuisine further add to its allure. Every city, every landscape, and every attraction tells a story, making Spain an unforgettable journey that leaves you wanting more.
Frequently Asked Quetions
What is the best time to visit Spain?
The best time to visit Spain largely depends on your preferences and where you plan to go. However, generally speaking, spring (April to June) and fall (September and October) offer pleasant weather and fewer crowds.
Which cities should a first-time visitor to Spain not miss?
For first-time visitors, Madrid, Barcelona, and Seville are must-visit cities. They offer a mix of culture, history, architecture, and vibrant nightlife.
What are the must-try foods in Spain?
Spain is known for its rich cuisine. Don't miss the paella, tapas, tortilla Española, and churros. Also, be sure to try the local wine and sangria.
How should I get around in Spain?
Spain boasts an efficient public transportation system, including high-speed trains connecting major cities. For short distances, metros and buses are readily available. Renting a car can be a good option for exploring the countryside.
Is Spain a safe destination for tourists?
Yes, Spain is generally a safe country for tourists. However, like any destination, it's important to stay aware of your surroundings and keep your belongings secure, especially in crowded tourist areas.
People Also Searched: