Travel
Top 20 Places To Visit In Bangalore With Friends
Welcome, adventurers! This is your next stop for wanderlust, the vibrant city of Bangalore, also known as the 'Silicon Valley of India.' Start packing, gather your friends, and get ready for an exciting escapade in this bustling metropolis. Our guide offers top places to visit in Bangalore with friends.
Our journey begins in the heart of the city where we discover the lush greenery of Cubbon Park. Amid the busy urban life, this refreshing oasis offers a much-needed break. Not too far away, there's the iconic Vidhana Soudha, the state's seat of power, showcasing majestic architectural elegance.
Next, let's shift our gears to the thrilling world of science at Visvesvaraya Industrial and Technological Museum. It's a paradise for tech-enthusiasts with interactive exhibits that both educate and entertain. Subsequently, the Bangalore Palace, with its rich history and Tudor-style architecture, promises to transport you back in time.
But wait, there's more! We then embark on an exotic journey to Bannerghatta National Park. A zoo, a butterfly park, and a rescue center, all rolled into one, it is a haven for wildlife lovers.
Last, but not least, a trip to Bangalore wouldn't be complete without experiencing its spirited nightlife. Head to the bustling pubs and breweries of Brigade Road and Koramangala, the city's party hubs, to end your day on a high note.
Join us as we delve deeper into each of these exciting spots in our upcoming posts. Together, we'll discover unmissable places to visit in Bangalore with friends! After all, travel is best when shared with friends. Stay tuned!
20 Must-Visit Hangouts Places To Visit In Bangalore With Friends
Ready to explore Bangalore, India's dynamic 'Silicon Valley'? Perfect for group outings, this bustling city brims with vibrant hangouts. From the serene Cubbon Park, a green oasis amidst urban life, to the architecturally stunning Vidhana Soudha, there's so much to discover. We'll dive into interactive experiences at Visvesvaraya Industrial and Technological Museum, step back in time at the majestic Bangalore Palace, and plunge into the wilderness of Bannerghatta National Park. And yes, we can't overlook Bangalore's lively nightlife at Brigade Road and Koramangala. So, gather your friends and buckle up. Our thrilling Bangalore adventure awaits!
Cubbon Park
Sprawling over 300 acres in the heart of Bangalore, Cubbon Park is a haven for nature lovers. You can indulge in an early morning walk, participate in yoga sessions or simply enjoy a picnic with friends amidst the lush greenery. Don't forget to check out the park's several statues and architectural structures. It is one of the best places to visit in Bangalore with friends.
Here's a tip – visit on a Sunday when the park is traffic-free and even more peaceful.
Lal Bagh Botanical Garden
Ready for a botanical adventure? Lal Bagh Botanical Garden is home to a rich variety of flora, including rare species of plants from Persia, Afghanistan, and France. Wander through the beautiful Glass House, inspired by London's Crystal Palace. Do catch the biannual flower shows held here. A helpful tip – early mornings are the best time to visit for a serene atmosphere.
Vidhana Soudha
As Bangalore's iconic landmark, Vidhana Soudha boasts impressive neo-Dravidian architecture. It's the seat of the state legislature of Karnataka. Although entry inside the building is restricted, the outside is perfect for a photo-op with its granite façade and grand pillars. Best viewed in the evening, when it's beautifully lit up.
Bangalore Palace
Step back in time at the Bangalore Palace whish is one of the best places to visit in Bangalore with friends. Showcasing Tudor-style architecture, the palace is a visual treat with its fortified towers, arches, and green lawns. Inside, you'll find stunning interiors with stained glass windows, intricate woodwork, and historic paintings. Remember, there's an audio guide available which offers interesting insights into the palace's history.
Nandi Hills
A short drive from Bangalore leads you to Nandi Hills. It's a perfect getaway for friends who enjoy trekking and panoramic sunrise views. Visit Tipu's Drop, a historic spot, and the ancient Yoga Nandeeshwara Temple. Be sure to bring warm clothing as it can get quite chilly here, especially in the early mornings. Also, carry some snacks for a mountain-top picnic.
Wonderla
Wonderla is the epitome of fun, offering a wild mix of water rides, high-thrill rides, and kids' rides. Brace yourself for the exhilarating 'Recoil', India's first reverse looping roller coaster. When you need a break from the adrenaline, relax in the wave pool or take a lazy river ride. A tip: To skip the queue, opt for a fast-track ticket. It is one of the best places to visit in Bangalore with friends.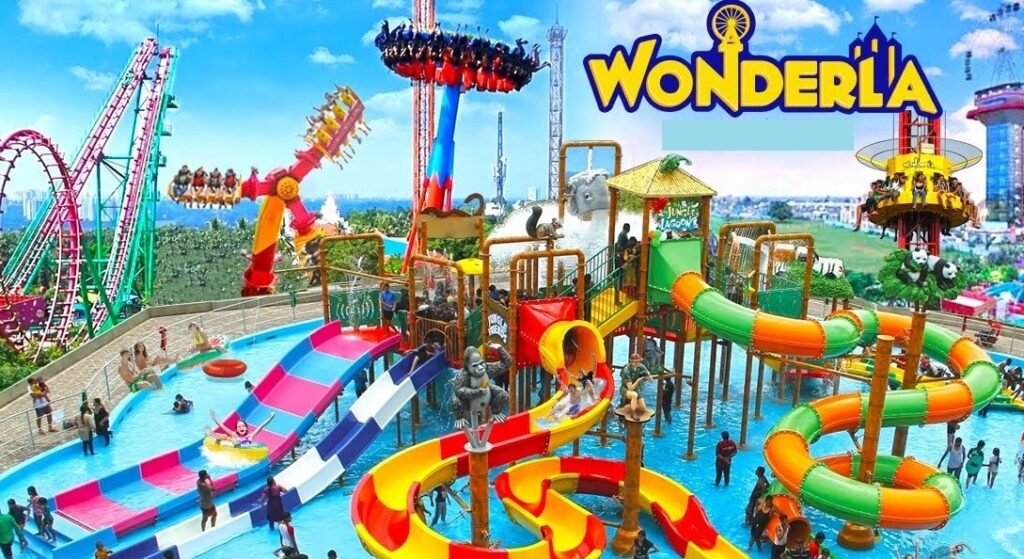 Bannerghatta National Park
For wildlife enthusiasts, Bannerghatta National Park is a must-visit. From a thrilling safari spotting lions and tigers, to walking amongst beautiful butterflies in the butterfly park, there's plenty to explore. Don't miss out on the Elephant Sanctuary and the Snake House. Remember, the park is closed on Tuesdays, so plan your visit accordingly.
Visvesvaraya Industrial & Technological Museum
A treasure trove for science geeks, this museum offers interactive exhibits on science and technology. Don't miss the fun science demonstration that happens daily. The Engine Hall and Space Gallery are crowd favorites. Lastly, don't forget to catch a show at the mini-dome theatre for an immersive experience.
Innovative Film City
From a petting zoo to a wax museum, Innovative Film City offers diverse attractions. You can have a spooky adventure in the Haunted Mansion, or check out the Cartoon City for some light-hearted fun. The Big Boss tour is a unique attraction for Indian reality TV show fans. Plan a full day for this visit, there's plenty to keep you entertained.
UB City Mall
Welcome to UB City Mall, a luxury shopping destination is one of the best places to visit in Bangalore with friends. It houses high-end international brands, perfect for a shopping spree. You can also indulge in some fine dining or simply relax in the amphitheater. If you're visiting in the evening, the beautifully lit up façade makes for a great photo-op. Don't miss their frequent events and exhibitions, adding extra buzz to your visit.
Commercial Street
Welcome to Commercial Street, Bangalore's bustling shopping paradise. From fashionable clothing and accessories to antique jewelry, you'll find a vast range of items to browse. Don't forget to bargain to get the best deals. Street food lovers will enjoy the local delicacies. Plan to visit in the evening when the market truly comes alive.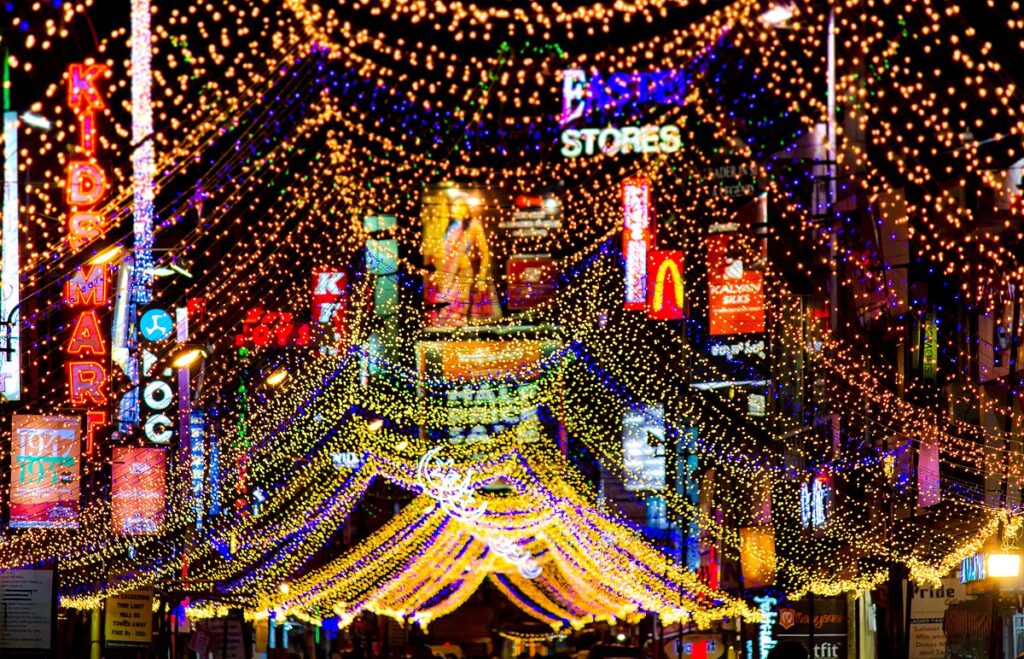 MG Road
MG Road is the beating heart of Bangalore. It's a hub for shopping with numerous stores and boutiques. When you're done shopping, enjoy the diverse culinary options available. As the sun sets, MG Road's nightlife buzzes into action. The local pubs and clubs are perfect to unwind and enjoy music with friends.
Art of Living International Centre
The Art of Living International Centre is a peaceful retreat on the outskirts is one of the best places to visit in Bangalore with friends. It offers courses on yoga and meditation for rejuvenation. You can also stroll around its vast, serene campus, or enjoy the beautiful Radha Kunj garden. Remember to check the schedule for any ongoing spiritual or cultural events during your visit.
Koramangala
Koramangala is one of Bangalore's coolest neighborhoods, known for its vibrant food and nightlife scene. There are numerous eateries, pubs, and breweries to check out. Also, explore the quirky boutiques and art galleries during the day. Tip: If you're a foodie, don't miss the Sunday brunches offered by many restaurants here.
Ramanagara
Calling all adventure seekers! Ramanagara, with its rugged hills and valleys, is a hot spot for trekking, rappelling, and rock climbing. You can also visit the silk cocoon market, as it's a major silk producing region. For "Sholay" movie fans, it's a must-visit, as the film was shot here. Remember to wear comfortable footwear and carry water during your adventures.
Iskcon Temple
Bangalore's Iskcon Temple, located on Hare Krishna Hill, is a spiritual retreat. Explore the beautifully decorated halls, filled with exquisite artwork and deities. Don't miss the mesmerizing evening aarti. If possible, try to time your visit to coincide with a festival for a truly unique experience. Before you leave, savor the delicious vegetarian food served in the temple's restaurant.
Ulsoor Lake
Nestled in the heart of the city, Ulsoor Lake offers a tranquil escape. Rent a boat for a leisurely paddle on the lake or relax by the water with a picnic. Remember to bring your camera to capture the beautiful sunset views. However, note that swimming is not allowed, so ensure safety comes first during your visit.
Phoenix Marketcity
Phoenix Marketcity is one of Bangalore's largest shopping malls. You'll find a wide range of stores, from popular high-street brands to designer boutiques. Hungry? Choose from numerous dining options. Check out the mall's event schedule too – there's often live music or performances to enjoy. Remember, weekends can be quite busy, so plan your visit accordingly.
Chunchi Falls
If you're craving a day trip, head to Chunchi Falls is one of the best places to visit in Bangalore with friends. Just outside of Bangalore, these beautiful falls offer a great spot for a picnic. Be sure to wear sturdy shoes as the path to the falls can be a bit tricky. Keep in mind, it's not safe to swim here, so enjoy the views from the riverbank.
Brigade Road
Brigade Road is a lively mix of shopping, dining, and entertainment. Browse through both international brands and local shops during the day. As night falls, the street transforms into a nightlife hub, with bustling pubs and live music venues. Tip: Don't miss the annual Brigade Road Carnival held in December, it's a true spectacle.
Unveiling Bangalore: The Ultimate Friends' Excursion
And there you have it, folks – a comprehensive guide of Places To Visit In Bangalore With Friends. From the awe-inspiring architecture of Vidhana Soudha and the Bangalore Palace, to the serenity of Cubbon Park and Lal Bagh Botanical Garden, each location offers unique experiences. Amp up your adventure with thrilling rides at Wonderla, or explore the nightlife in Koramangala and Brigade Road. Don't forget to embrace retail therapy at Commercial Street or Phoenix Marketcity. And of course, find tranquility at the Art of Living Centre or Iskcon Temple. Whether you're a group of shopaholics, foodies, nature lovers, or history buffs, Bangalore's got you covered. So, pack your bags, rally your friends, and get ready for an unforgettable Bangalore adventure. Adventure awaits in every corner, so let the fun begin!
Frequently Asked Questions
What is the best time to visit Bangalore?
Bangalore enjoys a pleasant climate throughout the year. However, the post-monsoon months between October and February are especially pleasant and ideal for outdoor activities and sightseeing.
Are there good shopping places in Bangalore for group shopping?
Absolutely! Commercial Street, MG Road, Phoenix Marketcity, and UB City Mall are some popular shopping destinations in Bangalore where you can shop to your heart's content with friends.
Where can we enjoy nightlife in Bangalore?
Koramangala, Brigade Road, and MG Road are famous for their vibrant nightlife. They house a variety of pubs, clubs, and restaurants perfect for an evening out with friends.
Can we find adventurous activities in Bangalore for a group of friends?
Yes, you can. Adventure-seekers can enjoy thrilling rides at Wonderla, rock climbing at Ramanagara, or trekking at Nandi Hills. Also, Bannerghatta National Park offers exciting wildlife safaris.
What are some must-visit cultural landmarks in Bangalore?
Key cultural landmarks include the Bangalore Palace, Vidhana Soudha, and the Iskcon Temple. Don't miss the Visvesvaraya Industrial & Technological Museum for an insightful peek into science and technology.
People Also Searched: